Hello to all,
I am pleased to announce that the EHS Hearts Association will again organize Electrosensitivity Day on June 16.
The principle remains the same as in previous years but this year I am counting on you to organize field actions and notify (as quickly as possible) the local media.
I therefore suggest that depending on your situation and your possibilities you:
Show your support for this cause

Make visible the invisible ones


Inform about electrosensitivity

Inform about the health risks generated by electro-smog

Inform about protective and electromagnetic hygiene options
… Locally, near you, the way you want it!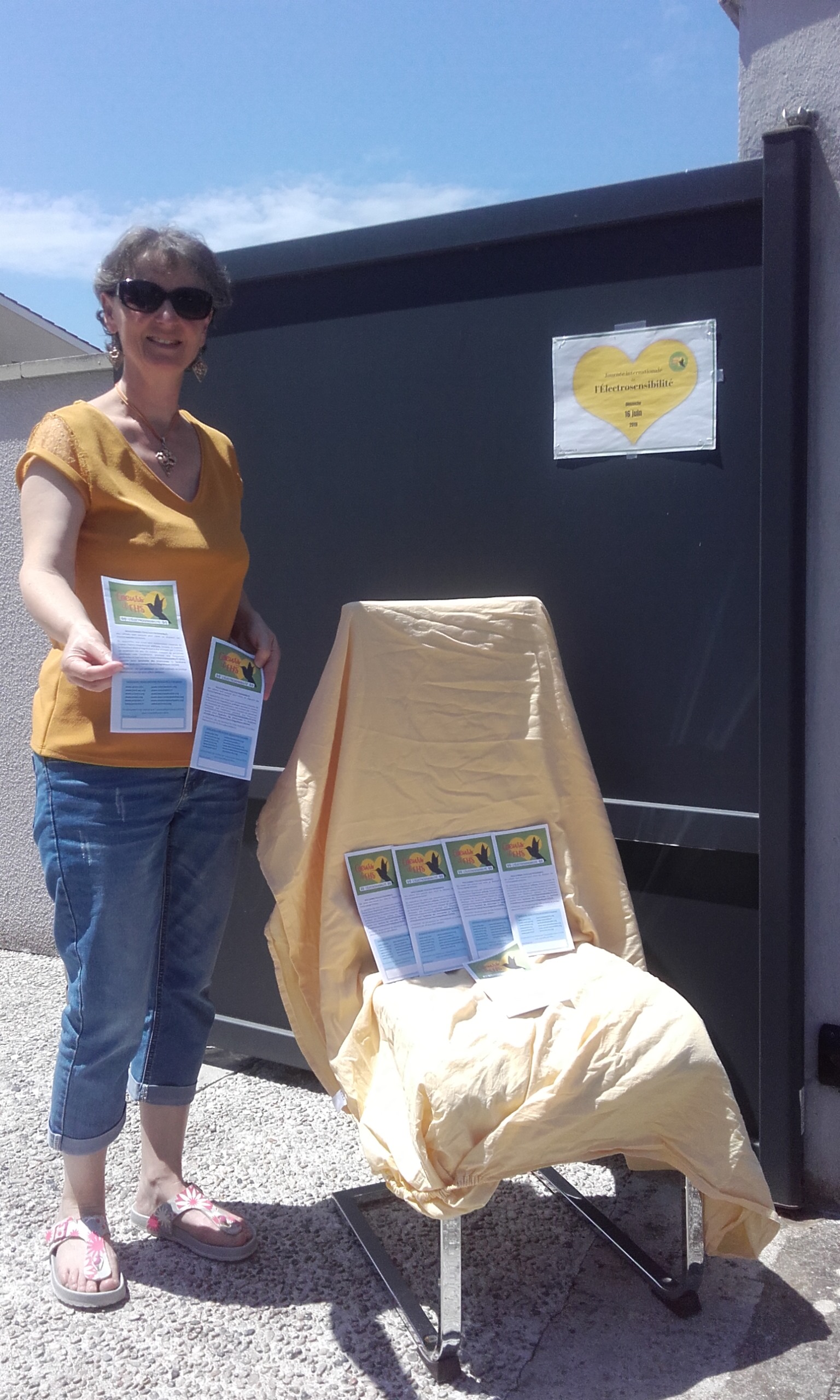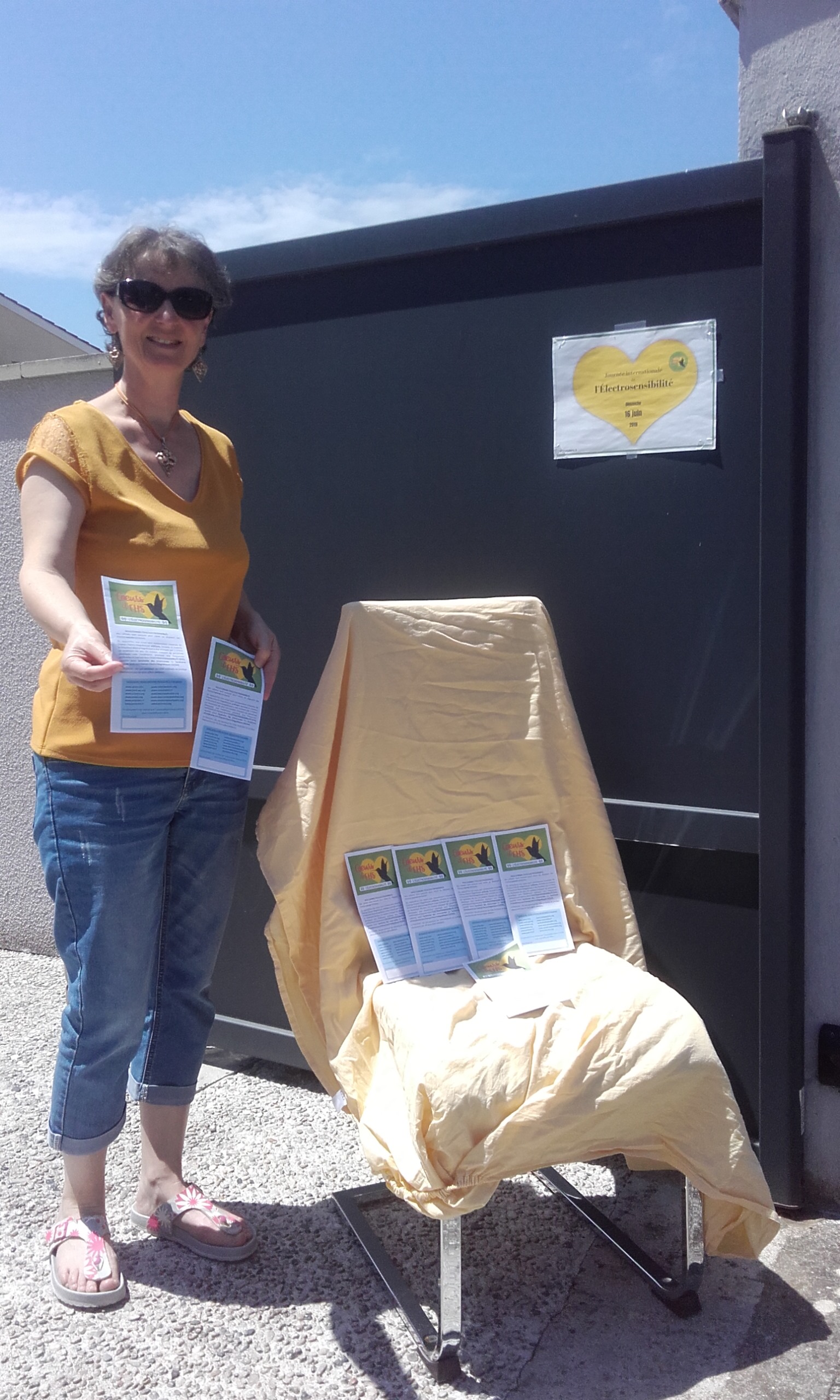 Show your support
– by distributing this information to all your contacts by email and in social networks, and even if possible with your local press.
– by hanging yellow on your windows, your balcony or going for a walk dressed in yellow.
– by taking a photo with the poster of the Day in public places and then posting this photo on social networks.
– by adding a yellow heart to decorate your profile picture on social networks that day (see below).
Make visible the invisible ones
Currently many EHS are hiding, be supportive, think of them and give these whistleblowers the visibility they deserve by symbolic acts.
I am counting on you to find creative and original ways to highlight the impossibility for them to go to polluted public places. You could, for example, mark their absence:
– by placing an empty yellow chair among people in places of social and cultural gatherings.
– by installing a mannequin in yellow T-shirt in front of known sites, with the indication of the pollution rate.
– by carrying yellow signs explaining what happened to them and the reasons for their absence.
… all photographed and posted on social networks and on our Facebook page, of course!
Excellent initiatives have emerged in 2018 and 2019, I invite you to read the report on what has been organized in different countries to inspire you:
– 1rst EHS Day in 2018
– 2nd EHS Day in 2019
Inform about electrosensitivity
This is to explain very simply what are:
– the causes (overexposure to waves often added to heavy metal intoxication, multiple chemical hypersensitivity, infection with Lyme disease bacteria etc.),
– the symptoms,
– the consequences (professional, social, family, often leading to exclusion, confinement, wandering, even suicide) of this intolerance to artificial electromagnetic fields.
Thank you for being patient with skeptics. Fortunately most of the time people are already aware of the issue of waves and are asking for information about it.
Take the opportunity to make the general public aware of all the existing associations likely to inform them and help them.
Inform about the health risks generated by electro-smog
These are multiple. Beyond the electrosensitivity, you can make it clear to the general public that the electromagnetic waves do not only make 5% of the population electrosensitive but weaken ALL the living organisms in a general way and are one of the triggers of multiple pathologies.
Take the opportunity to communicate on the wide range of pathologies caused by prolonged exposures to electromagnetic waves and what they cost human and financial to society.
Inform the pregnant women of the risks for their fetus, the parents of the risks for their children, the seniors of the risks of premature degeneration of their brain (Alzheimer's disease etc.).
Inform about protective and electromagnetic hygiene options
The aim is to inform the general public about the different sources of artificial electromagnetic fields they face every day and to explain to them how to avoid unnecessary exposure to them.
To preserve our health, it is important to:
1) Eliminate all internal pollution (emitted by wireless technologies and mobile telephony) by favoring wired connections.
2) Block external pollution by anti-wave devices and the shielding of the home electrical network to protect against dirty electricity.
3) Protect from these pollutions the rest areas to promote a restful sleep and thus help the body to maintain its integrity against the waves during the day.
Durind this Day, I hope that many professionals will take the opportunity to organize workshops to inform the general public and make themselves known at the same time.
Communication supports at your disposal
This EHS Day having been very well received by many countries since its creation in 2018, in order to promote it worldwide, a Facebook group, specially dedicated to the event, was created last year for the occasion:
June 16: World Electrosensitivit Day
You will find many supports in this group as well as in the Facebook « event » which was created for the occasion:
June 16: Electrosensitivity Day
Facebook profile sets are available with the keyword: « ehsday2020 » and the following documents are available:
A4 poster

A4 poster
A3 poster

Transparent background
A Day dedicated exclusively to EHS
I want to emphasize an important point. Although I support all the collectives, groups and associations that courageously mobilize against the installation of smart meters and against the deployment of 5G, I do not wish that June 16 is a day of mobilization mainly focused on these fights.
I would be grateful to you for keeping in mind that this Day is dedicated to the electro-hypersensitive, to their difficulties to survive, to be heard and to be recognized as such. That is why I would like us to think very strongly of them on this Day (to which the most affected of them will not be able to participate) and that this Day is theirs.
This Day will be a success if it changes the public's perception of EHS and encourages benevolent behavior towards them. I do not want it to be an occasion for demonstrations against smart meters or against 5G, which could be badly perceived by the general public and ruin the charitable and humanitarian objective of this Day. Thank you for respecting this choice.
All over the world, Electro Hyper Sensitive people are hiding in the most remote, isolated, forgotten, desperate places. It is with these Sensitive Human Beings that I will ask you on June 16th, 2020 to be Solidary and to carry the voice of those who can not anymore by showing your support for this cause which concerns us all!
That is why I call all the associations, all the collectives, all the groups and all the professionals concerned in France and abroad to join us with the means at their disposal and in the way they wish.
TOGETHER let's make common cause so that electrosensitivity is definitely known to the general public.
Help us, support us and join us!
WE COUNT ON YOU !
Magali Lesure
President of EHS Hearts, France
About us